AME Management Team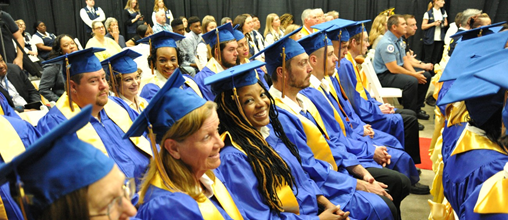 Businesses are discovering that employees entering the workforce or already in the workforce have not gained the needed technical and people-centric leadership skills to effectively engage with customers to provide a pleasing customer experience and needed training to grow their careers.
American companies spend about $170 billion a year on formal employee training, but most of that instruction focuses on workers with college degrees.
Walmart is investing $2.7 billion on training and raising wages for 1.2 million of its store workers over the past two years — an investment that reflects the pressures in the retail industry that all companies are facing in today's global economy.
Other companies taking similar measures are Target, which is pledging to raise its minimum wage to $15 an hour by 2020 and Starbucks, which is now offering paid sick leave and stock grants to its baristas to remain competitive in a tight labor market.
Workforce Investment
Walmart, the country's largest private employer, recently announced it will pay for its workers to go back to school — if they get degrees in business or supply-chain management. Walmart will cover the costs of tuition, books and fees, while employees will be required to pay $1 a day for the duration of their studies. Walmart wants to ensure that its associates can earn a college degree without incurring student loan debt.
In addition, Walmart is trying to make its stores more pleasant places to shop and work. This requires a well-trained work force where its employees can earn a degree online — an initiative to improve employee retention rates and engagement at work, while also drawing new workers.
Their associates are eligible to apply once they have worked at Walmart for at least 90 days. Walmart expects that all associates who apply will be accepted and if an employee leaves the company before completing a degree, the employee does not have to pay back any costs to Walmart.
The program is a part of Walmart's broader push to invest in employee education and training, Greg Foran, CEO of Walmart U.S., said in a statement. "Investing in the personal and professional success of our associates is vital to Walmart's future success," he said. "We know training and learning opportunities empower associates to deliver for customers while growing and advancing in their careers."
Academy Program
To address these challenges of having a highly engaged and trained workforce, Walmart has launched its own Academy Program with a dedicated facility located in, or adjacent to, a Walmart Supercenter where both hourly supervisors and salaried managers will receive a variety of training in both the classroom and on-the-job training in the store.
Walmart's Academy Program is a training initiative aimed at increasing growth opportunities for employees nationwide and a standard of excellence in all Walmart stores nationwide. The Academy program considers both newly promoted supervisors and those with experience with the aim of providing them the skills and confidence to run outstanding departments, lead people and deliver a great customer experience.
Those participating include front-line hourly supervisors, department managers and assistant managers, with classes ranging from 15 to 30 students. Once they finish Academy training that focuses on core retail principles, leadership and communication with customers, workers then move on to the actual retail floor for the ultimate reality experience — serving the customers.
One of the newest Walmart Academies is in Williamsburg Virginia, which has successfully trained over 2,000 associates since it opened in March of 2017. "Our Academies offer our associates the real-world experience and a model for excellence to help us evolve" said Jason Finkel, the Academy Manager. ''As an Academy team we are able to invest our years of retail experience into today's leaders and those of the future to help ensure their success." These new graduates are engaging with their associates to make shopping a more productive and pleasurable experience.
"Our training academies are helping to provide associates with the skills they need to succeed and advance, while creating a better and more consistent customer experience," said Erica Jones, senior Walmart corporate communications manager. "Skills training increases productivity, confidence and knowledge which leads to greater job satisfaction, personal and professional growth and helps make working at Walmart a smart career choice."
A Manufacturing Renaissance
Walmart has committed to American jobs renewal by pledging to purchase $250 billion in American products by 2023 that support the creation of American jobs. It is estimated that 1 million new U.S. jobs will be created through this initiative, including direct manufacturing job growth of approximately 250,000, and indirect job growth of 750,000 in the support and service sectors.
Walmart's Made in the USA initiative is creating thousands of new jobs at home which is the driving the need for more investments in a better educated and trained workforce for making  "Made in America"   and the "American Dream" a reality.
To learn about more about leading a manufacturing renaissance using people-centric leadership skills, join the Association for Manufacturing Excellence (AME) at the AME International Conference in San Diego, October 29 – November 1, 2018.