Four plants were presented with the AME Excellence Award at the AME International Conference in San Diego, California, in October. The Award recognizes manufacturing or healthcare organizations that have demonstrated excellence in manufacturing and business operations, based on criteria described in the AME Excellence Award Criteria. The criteria can be downloaded from: http://bit.ly/2U90vJm
The 2018 recipients are as follows: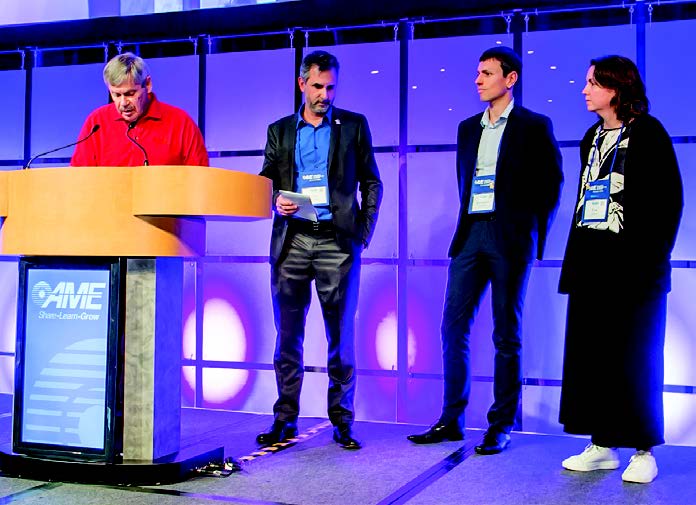 Fiat Powertrain Technologies (FPT)
Bourbon-Lancy, France
Fiat Powertrain Technologies in Bourbon-Lancy, France, manufactures diesel engines in a variety of sizes, transmissions and axles. Operations are split into three units: Cast Iron Parts, Steel Parts and Assembly. The plant employs 1,260 people and operates on a campus of 2.26 million square feet, of which over 1.18 million are covered.
The plant is part of CNH Industrial Companies, which designs, produces and sells powertrains for on- and off-road vehicles, marine and power generation applications.
As part of CNH, the Bourbon-Lancy plant is using the World Class Manufacturing system to drive far-reaching changes in their methods of production. The pillars of the program include the belief that safety is an essential value, leaders have a passion for standards, no waste is acceptable and people involvement drives change.
The AME assessment team highlighted the Bourbon-Lancy Plant's strong leadership culture, which respects people and goes out of its way to recognize and celebrate team members' contributions to the organization. They also noted that the continuous improvement skill of the people is very obvious and that their passion for the products they make is evident throughout the facility.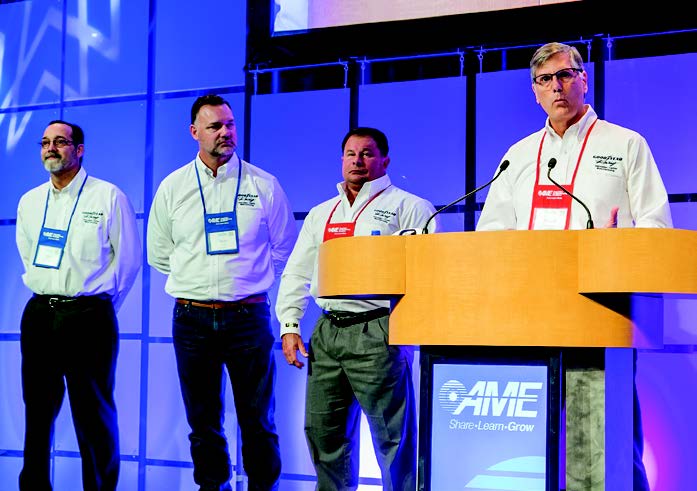 Goodyear ICM
Akron, Ohio
The Innovation Center Manufacturing plant, or ICM, is the premier race tire production facility for The Goodyear Tire & Rubber Company, one of the world's largest tire companies. The 845,000-square-foot facility operates three shifts per day, Monday through Friday, with a total of 285 associates. The hourly associates are represented by the United Steelworkers Local 2 and make high-performance race tires by hand for the National Association of Stock Car Auto Racing (NASCAR) and the National Hot Rod Association (NHRA).
ICM tire builders are craftspeople who work in a manual-intensive process where their passion for quality and driver safety are proven by the placement of their names on every tire they build.
In the fall of 2013, ICM began a cultural transformation with a commitment to operational excellence. The objective was to move the organization away from the traditional manufacturing mindset, redefine the way work was done in the facility and focus on creating a culture where highly engaged associates enjoy coming to work.
In their evaluation, AME assessors highlighted ICM's safety reporting system, a closed-loop system and a Goodyear best practice that focuses on identifying near misses and analyzing events, as well as its operational excellence in leadership, workplace culture and employee relations.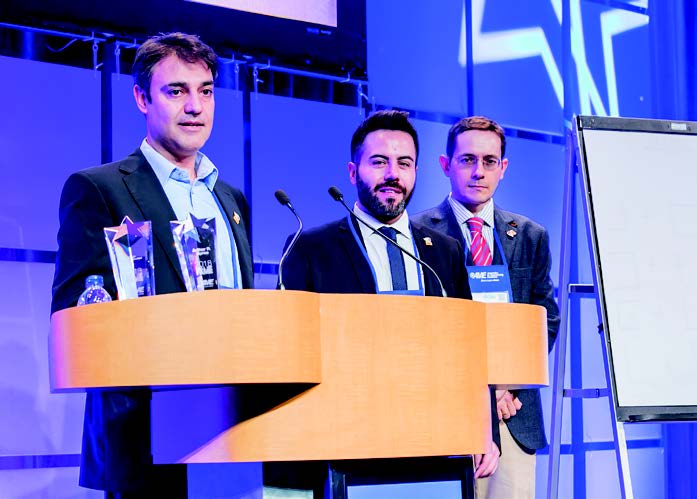 Iveco Valladolid
Valladolid, Spain
Located in Spain about 100 miles northwest of Madrid, is the Iveco Valladolid plant. Iveco designs, manufactures and markets a wide range of light, medium and heavy commercial vehicles, city and intercity buses and coaches, special vehicles, defense vehicles and off-road vehicles for construction and mining work. It is a unionized private firm with 960 employees working three shifts a day, five days a week.
Iveco is one brand in the CNH Industrial Group, a world leader in capital goods. It began its improvement journey in 1998 by applying lean manufacturing through the CNH program called the Iveco Production System.
In 2007, they started in the World Class Manufacturing Program—one of the global manufacturing industry's highest standards for the integrated management of manufacturing plants and processes.
The AME assessment team was extremely impressed and had this to say in summing up: "The Iveco Valladolid team is a group of talented individuals that function as a team and know what it takes for them to 'win' on an annual, monthly, weekly, daily, and even hourly basis. The strategy and metrics can be seen throughout the facility including a brilliant graphic version composed by an associate with wonderful artistic skills. The management team's drive and dedication seem second to none."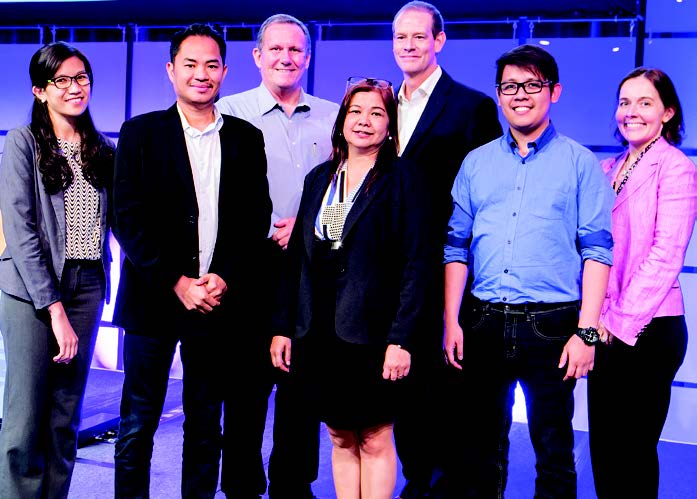 Littelfuse Philippines Inc.
Lipa City, Malavar
Littelfuse Philippines Incorporated, known as LFPI, is situated in the Lima Technology Center, about 55 miles south of Manila. It was established in 1997 and consists of two adjacently located manufacturing facilities with a combined production area of 129,600 square feet. LFPI has a current staff of 1,923 employees who produce a wide range of circuit protection devices for the electronics and automotive markets. They operate 24/7 with multiple staggered shifts.
LFPI is part of Littelfuse Inc., a publicly traded company, with headquarters in Chicago.
LFPI started its lean journey in 2003, but it really didn't gain traction until 2012 when the corporate global lean deployment program created a structured lean training and staff development, which was the start of LFPI's concentrated lean journey. Many lean tools and methodologies have been implemented and utilized in LFPI's relentless pursuit to eliminate all forms of waste. LFPI has 1 percent of its workforce dedicated full-time to Lean Six Sigma activities.
The AME assessment team had the following comments: "Without exception, people represented LFPI as a great place to work, and we saw evidence of a leadership culture that respects people and goes out of its way to recognize and celebrate team members' contributions to the organization."
This article originally appeared in the Winter 2018 issue of Target magazine. Deadline to submit the Intent to Apply form for the 2019 AME Excellence Award has been extended to February 22, 2019. For more information about applying for an AME Excellence Award including all applications, visit the AME Awards page.