AME Management Team
When you think of entrepreneurs - one who jumps to head of the line is Sam Walton. The Walmart story is more than just the stores, the partnerships and the customers they served.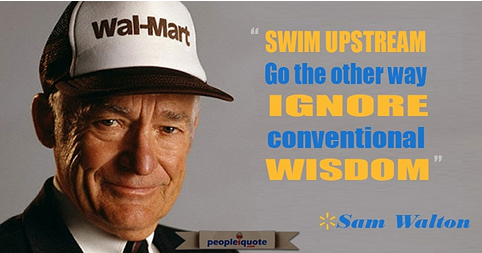 It is the result of Sam Walton's visionary leadership, along with generations of associates focused on helping customers and communities save money and live better.
Sam Walton believed running a successful business boils down to 10 simple rules and they helped Walmart become the global leader it is today:
1. Commit to your business.
2. Share your profits with all your associates and treat them as partners.
3. Motivate your partners.
4. Communicate everything you possibly can to your partners.
5. Appreciate everything your associates do for the business.
6. Celebrate your success.
7. Listen to everyone in your company.
8. Exceed your customers' expectations.
9. Control your expenses better than your competition.
10. Swim upstream.
Sam's competitors thought his idea that a successful business could be built around offering lower prices and great service would never work. As it turned out, the company's success exceeded even Sam's expectations. The company went public in 1970, and the proceeds financed a steady expansion of the business.
Sam credited the rapid growth of Walmart not just to the low costs that attracted his customers, but also to his associates. He relied on them to give customers the great shopping experience that would keep them coming back.
Sam shared his vision for the company with associates in a way that was nearly unheard of in the industry. He made them partners in the success of the company, and firmly believed that this partnership was what made Walmart great.
Walmart, as we know it today, evolved from Sam Walton's goals for great value and great customer service. "Mr. Sam," as he was known, believed in leadership through service. This belief that true leadership depends on willing service was the principle on which Walmart was built and drove the decisions the company has made for the past 50 years.
Sam's fearlessness in offering lower prices and bringing Walmart's value to customers in the U.S. and beyond set a standard for the company that lives on to this day. His strong commitment to service and to the values that help individuals, businesses and the country succeed earned him the Presidential Medal of Freedom, awarded by President George H. W. Bush in 1992.
Jack Welch said, "Sam Walton understood people the way Thomas Edison understood innovation and Henry Ford, production. He brought out the very best in his employees, gave his very best to his customers, and taught something of value to everyone he touched."
Made in America
Walmart has stepped forward to keep Sam's dream a live for helping other entrepreneurs make "Made in American" a reality. To that end, Walmart has adopted a Roadmap to Renew U.S. Manufacturing, offering a comprehensive approach to tackling the major barriers that keep companies from manufacturing more consumer goods in the United States. Walmart is providing a framework for developing suppliers through access to the huge Walmart marketing and distribution system.
Walmart is leading this American renewal through its commitment to purchase an additional $250 billion in products made, sourced or grown in the U.S. by 2023. By investing in products that support American jobs, Walmart is playing a lead role in accelerating growth in U.S. manufacturing. Through these efforts, Walmart's commitment could create up to one million new American jobs.
The Association for Manufacturing Excellence (AME) would like invite entrepreneurs to learn how to lead a manufacturing renaissance by joining us at the AME International Conference in Toronto next fall to explore ways to accelerate your journey toward enterprise excellence.