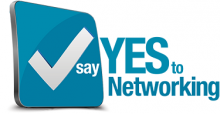 AME | October 7, 2015
If you asked anyone who has ever attended a conference, there's a good chance they'd tell you their favorite part of attending a conference is the face-to-face interaction with friends and colleagues.  There's something special about getting together with like-minded people or people in our "tribe." These conversations can spark new ideas, strengthen relationships and even lead to new friendships and partnerships.
If you plan on attending the AME 2015 International Conference in Cincinnati, we highly encourage you to make the most of networking at the conference.  The conference is designed with networking in mind.  
Here are some networking activities planned for #AMECinci:
Club Nu Bee orientation sessions:  Scheduled for Sunday and Monday evenings from 5:00 p.m. – 5:45 p.m., Club Nu Bee orientation sessions are designed for new attendees or anyone looking to get an overview of the best ways to plan and experience the conference.  This will be an informative presentation with an emphasis on fun. Prizes will be raffled off during the event and refreshments will be served.
Dine-Around: Whether you're attending the conference alone or as part of a group, Dine-Around is the perfect way to experience restaurants in Cincinnati on Sunday and Monday evening. There are no additional charges to attend (the cost of dinner is on your own).  Sign up in Cincinnati at the Ask Me booth, through the conference app or on the Dine-Around sign-up form.
The AME Amazing Race:  Use your smart phone to snap photos of key locations in downtown Cincinnati. During the event you'll compete with others to complete key tasks while learning about Cincinnati and its culture. Register as a team or as a single contestant, where you'll be placed on a team.  To sign up for this event, visit The Amazing Race signup page and download the AME Amazing Race Guidelines.
AME Selfie Networking Contest: Take selfies at the conference with friends, colleagues, presenters and strangers and submit (with names of anyone in the selfie photo) to the official contest email address: networking@ame.org.  Participants who take selfies with the most people, will win daily prizes.  One hard-working networker will win the grand prize for overall top selfie networking count. Visit the AME Selfie Networking Contest Rules page.
In Cincinnati, be sure to stop by the Networking Lounge on the 2nd floor near the registration area to share your thoughts on the #AMECinci white board, ask questions about social media, and network with other attendees.  
With so many like-minded manufacturing professionals (and so many great networking events), we encourage you make the most of your networking as you share, learn and grow in Cincinnati!