AME | March 18, 2022
What do you call a manufacturing plant that is just ok?
Satisfactory.
At AME and among the lean, continuous improvement community, we are in a constant search for how to make things better, how to increase efficiency and efficacy, how to empower employees, how to lead better, and how to improve how we improve.
We all know that the status quo is a road to nowhere. Improvements and innovations are necessary to make our factories, hospitals, government departments and other operations serve our employees and customers better. I am proud to lead a non-profit association whose mission is to help organizations on this pursuit of enterprise excellence.
Behind the scenes at AME, everything we do is connected back to a central system. Some in our volunteer ranks informally call this the "AME Way." Others call it the "AME Pathway to Excellence." And, still others, I suspect would use the French phrase je ne sais quoi to describe it.
Whatever you call it, all of AME's efforts are designed to move you from satisfactory to operational excellence. And everything we do ties back to the central benchmarking system found in the AME Lean Sensei®.
Today, I am proud to announce that the AME Lean Sensei® has been completely redesigned by a volunteer team led by Mark Preston and our AME Excellence Award committee.
The new AME Lean Sensei® will be released as a members-only tool this Monday [UPDATE: AME Lean Sensei® is available now!]. It includes expanded questions so you can benchmark off past AME Excellence Award recipient companies – including some of the best organizations in the world! Plus, you'll experience a new user interface, a robust dictionary of lean terms, and a library of helpful books.
The most powerful change included in this new AME Lean Sensei® is the knowledge and best-practices you'll see as you work through the process. That's because AME Lean Sensei® now connects you directly to articles, videos, training materials and more based on your self-assessment.
Does your AME Lean Sensei® score, for example, indicate that you need to improve your supplier development and procurement, product development, or any one of the 12 AME Lean Sensei® sections? You'll instantly be able to access AME Target articles, training recommendations, videos, and more related to that topic. Most of these materials are members-only, which is the main reason why the AME Lean Sensei® is now a free tool for active AME members.
Kudos to Mark Preston, Michael Bremer, Larry Anderson, Jeff Fuchs, Vanessa Harrison-Chambers, Michael Muilenburg, Billy Taylor, Pat Wardwell and everyone else involved in creating and updating this powerful tool for the AME community.
Stay tuned for an email on Monday announcing how members can access this new version. If you're not already an AME member, this is an ideal time to join. Not only will you get access to the new AME Lean Sensei®, but you'll also be able to join the final two days of the AME Back to Basics Lean Summit for free and gain free registration for the AME Technology and Innovation Summit (May 2022) and the AME Workforce of the Future Summit (July 2022). Plus, you'll get access to the complete AME Target archive and member discounts on AME events, Lean Certification, and more. Learn more and sign up for an AME membership now at ame.org/membership.
As always, please stay safe and keep looking out for one another.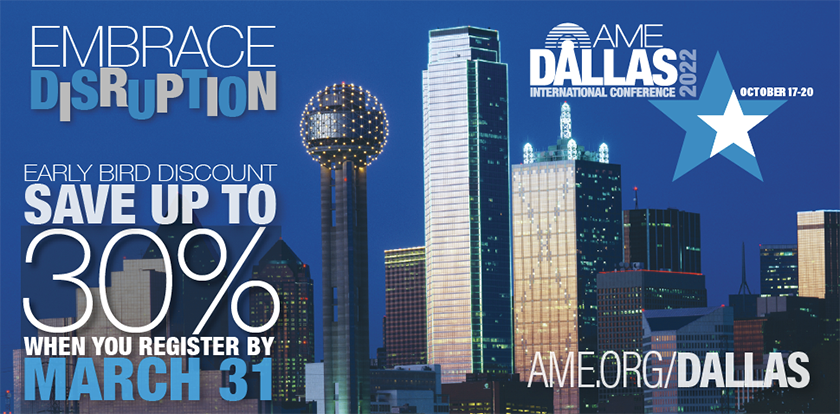 P.S. Did you know that all AME International Conference programming is aligned with the AME Lean Sensei®? When you attend AME Dallas 2022, you'll be hearing the success – and failure – stories from organizations including Crown, GE, Jeld-Wen, Microsoft, Siemens, Trane, Wabtec and so many more. Register by 3/31 and save 30% with our early bird pricing. Learn more at ame.org/conference.