#1 Best selling author - Profit in Plain Sight. AME Director-British Columbia, Canada www.AnneCGraham.com
It's said that the only constant is change. But are you ready for the tsunami of change heading in your direction in 2018? Let's take a look:
Prediction #1: Industry 4.0 becomes a dodo bird.
If your strategic and tactical conversations and initiatives are all about production efficiencies, off-shoring, re-shoring, automation, robotics, IoT, skilled labor shortages, quality, re-work, on-time- complete, RFID, big data and so on, you are on the path to extinction, the same as the dodo bird, because those are Industry 4.0 challenges that reflect the outdated "subtractive manufacturing" model that's been with us since the start of the industrial revolution. 
Prediction #2: The future of manufacturing… has nothing to do with manufacturing.
The industrial revolution focused on subtractive manufacturing – chop down a tree, chisel away what you don't need, and voila, a telephone pole that will be shipped and installed at its final destination. Or start with sheets of steel, stamp out an automotive frame, discard or recycle what you don't use, put it together with numerous other parts created exactly the same way, and ship the finished vehicle to a distant dealership to be held in inventory.
Within five years of 2018, we will be living in the world of additive manufacturing, also known as 3-D printing, and over 250 years of subtractive manufacturing history will become entertaining reading for your grandkids. Don't believe me? See what GE has been up to with their newest turboprop engine which is 35 percent additive. The economic justification is massive, and the 3-D rotating model will blow you away.
But it won't be just ANY 3-D printing. Most additive manufacturing conversations still reflect traditional bias – i.e. replacing your assembly line with 3-D printers and pretty much carrying on business as usual.  Instead, the future of manufacturing is Localized-Additive-Manufacturing-on-Demand – LAMD. That means that Mattel won't be 3-D printing Barbie dolls following traditional supply-chain practices. It means that your Wal-Mart just down the street will 3-D print them only as required. This shift will have massive implications for every area of your business, whether you're in consumer or industrial goods.
Some predictions say that over 80 percent of North American households will have a 3-D printer by 2023, so perhaps someday you'll be printing your own Barbie dolls in the basement, although I see that as a less-likely scenario, as your basement would rapidly fill up with dribs and drabs of raw materials for things you only print once and a while. But then again…Thomas Watson famously said the worldwide market for computers was about three machines. Bill Gates saw a computer in every home. We all know who was right on that one. In the near term, it makes perfect sense for your industrial customers to 3-D print in-house what they buy from you in volume today, and use a local 3-D printing facility for less-frequently used items. They'll get perfect products, on time, as needed, with no supply chain hassles.
Either way, the illustration below of the hollowing out of the value chain that will occur in the next five years speaks volumes about the radical changes in store for traditional manufacturing (download larger image versions and the Manufacturing 5.0 Manifesto here):
Subtractive Manufacturing Value Chain circa 2017 Additive Manufacturing (5.0) Value Chain circa 2023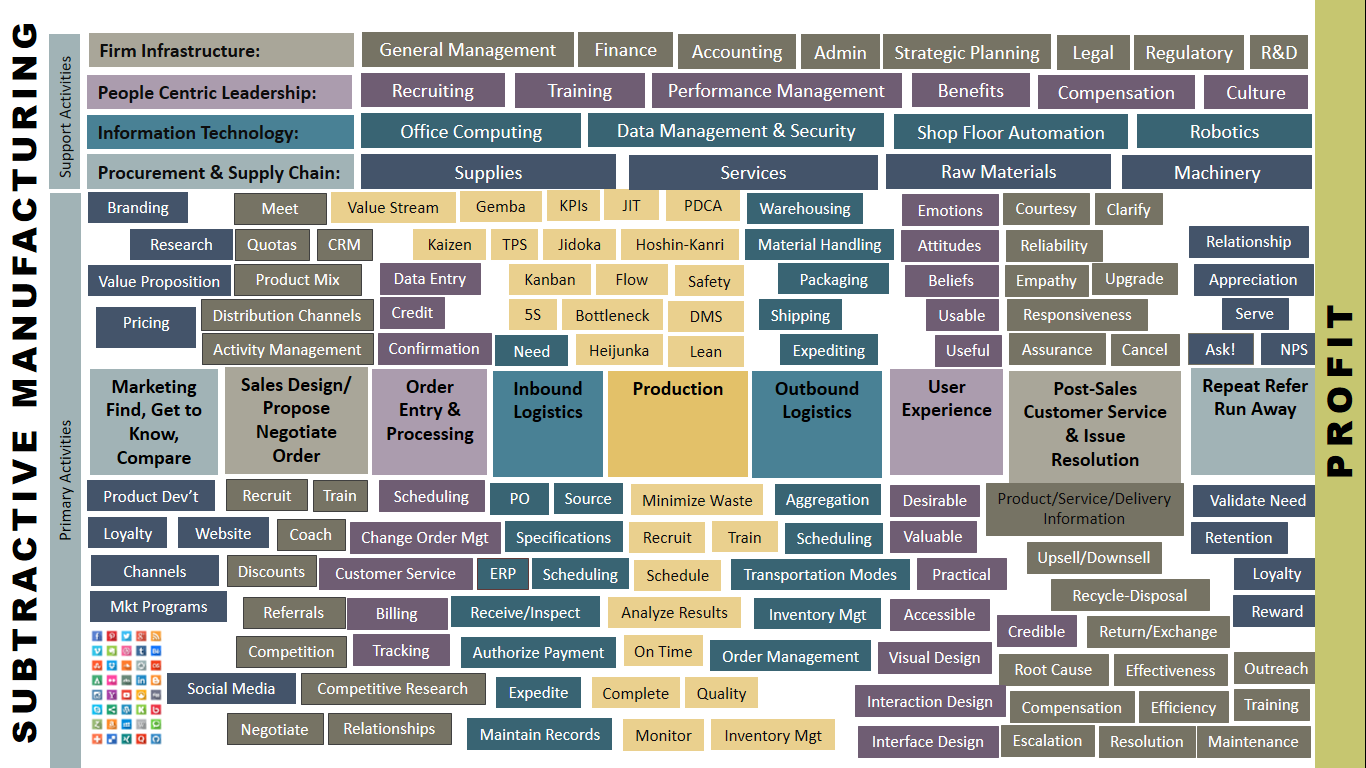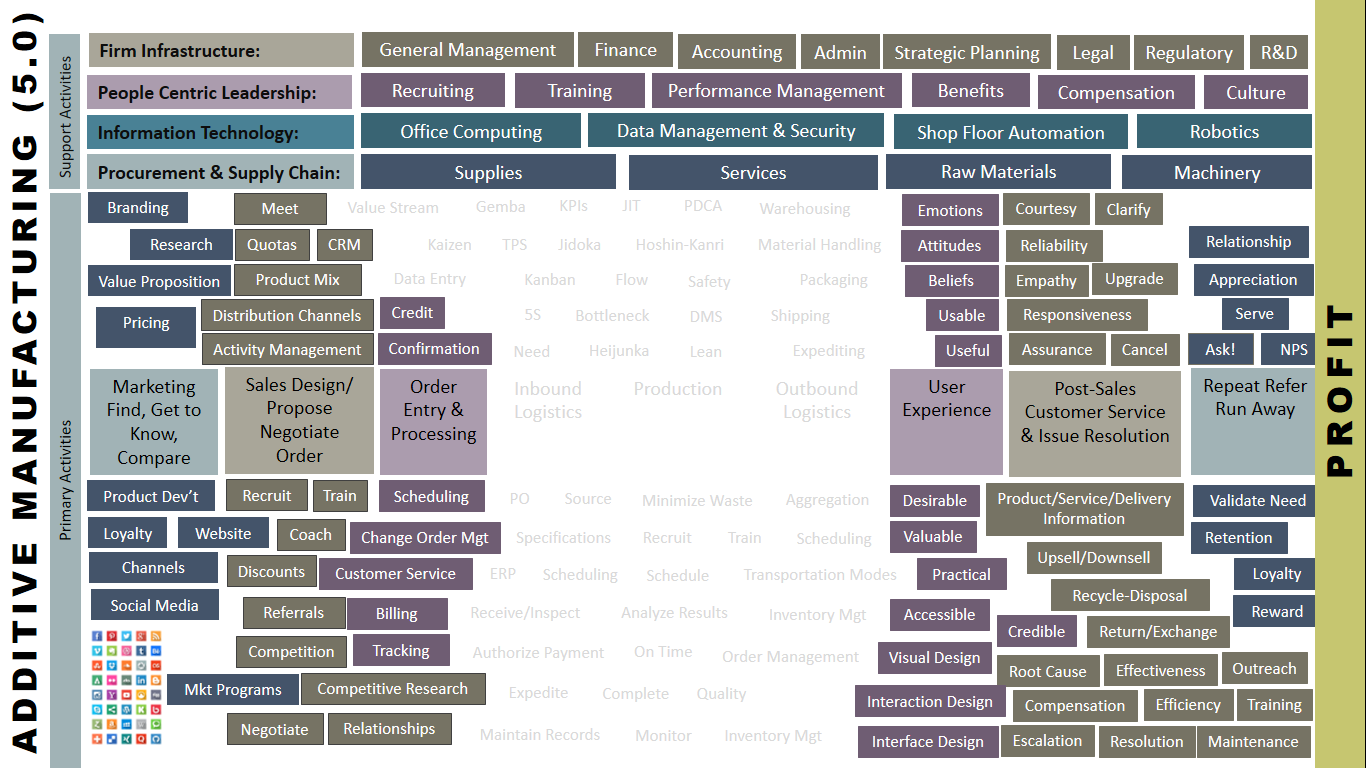 Maybe you're thinking "this will never apply to us". Yes, some industries will take longer than others (think of wood or leather products), however…
Prediction #3: NO manufacturer will be immune from the impact of LAMD. 
To date, there are 202 different materials that have been successfully transitioned to additive manufacturing techniques.
It's said that most materials are now at the 3-D viability stage that plastics were at in the mid 90's. As you know, technology adoption – once proven – tends to look like a hockey stick…so it's entirely reasonable to forecast a 5-year window for massive impact by a technology that only took 20 years to go mainstream the first time. While 3-D printed kidneys aren't quite a reality yet, 3-D veins HAVE been successfully implanted. If living tissue can be 3-D printed, whatever YOU produce will be too.
If you're heavily invested in lean, you'll be amongst the group of manufactures most at risk because…
Prediction #4:  Much of what you're talking about today is irrelevant.
There are a lot of conversations about "re-shoring".  With additive printing, very product bought in America will not only be "Made in America" regardless of where in the world it was conceived and designed, it will be made right down the street.   However, your field of competitors is going to get a lot bigger as out-of-date trade laws scramble to catch up with the seamless cross-border exchange of IP. 
There are some conversations about green. Well, there's nothing much greener than a clean and wasteless process with minimal transportation-of-finished goods requirements.
There are a lot of conversations about using IoT (Internet of Things) at the plant floor level to enable increasingly automated processes and robotics to better communicate. In the world of additive manufacturing that becomes irrelevant:
Subtractive:  Outdated, Complex, Massive Waste  Additive:  Streamlined and Efficient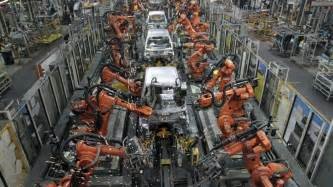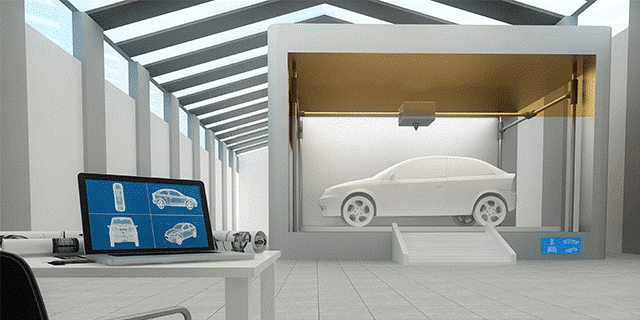 Prediction #5: Lean is still relevant…but must evolve.
You're going to be tempted to stick to the knitting as long as possible because of all the money and man-hours you've invested implementing lean, while less-lean firms will make the jump to lightspeed immediately and effortlessly. 
With the hollowing out of the value chain, the competitive game will be won with innovation, marketing, and post-sales service, not by quality generated on the non-existent shop floor. 
But don't stop what you're doing with lean, just rethink new investments and prepare to pivot your focus to the rest of the value chain, and evolve your lean thinking.  Instead of going deep with lean, its time to go broad. Lean Enterprise has been a buzzword for years, but there's not much of an efficiency or profit gain by starting to 5S people's staplers. Instead, your lean goal needs to be eliminating waste by creating innovation and a Frictionless Customer Experience at every stage of the value chain – something that most firms are extremely poor at doing.
Yes, as an active AME volunteer I'm biased, but I believe AME is an essential part of your transition team during the shift to Manufacturing 5.0, because somewhere there's a more advanced practitioner who's already overcome whatever challenges Manufacturing 5.0 has in store for you, and who's willing to help.
Prediction #6: The skilled labor shortage will resolve itself – sort of.
People are not going away in the LAMD world. But all the fuss about the shrinking workforce and lack of skilled shop floor resources will rapidly become less relevant. Fewer people will be required in the logistics and production segments of the value chain, and the in-demand skills will be understanding the advanced customer needs that 3-D printing makes possible, engineering and design, programming and servicing all those 3-D printers, as well as jobs related to raw material supply and maintenance for all those printers – at least until we reach the Star Trek stage of replicating molecules. 
People-centric leadership will be even more critical in the hunt to attract and retain loyal talent as an employer of choice. One major risk is the hollowing out of the "employment" model, as those with in-demand design and programming skills may very well freelance, with all the associated risks to traditional manufacturers of intellectual property (IP) issues and patent protection. Yes, the "gig" society that you may have experienced whenever you've taken an Uber or Lyft ride is headed your way. If nothing else, sorting out the IP challenges of a 3-D world will provide full employment for lawyers!  Freelanced fabrication by a new independent labor force - anyone with a garage and a printer - is also a risk. 
But it's not just the relationships with your employees that you need to be concerned about because…
Prediction #7: Your customer relationships will get "Amazon-ed."
Chances are you did a lot of your holiday shopping online last year. Chances are you compared prices and suppliers by searching them all in one place – Amazon. Chances are you considered the number of user-generated gold stars that various products or providers had earned as a factor in your selection.
When 3-D printing levels out the technical "quality" field by producing flawless products (there will still be Rolex vs Timex quality distinctions driven by design and materials, of course), your customers will increasingly look online (whether Amazon or another industrial-focused site) to find and compare the best product and price for their needs regardless of where in the world the product design originated, and have it produced in house or right down the street. And, instead of being able to tout or bury your customer satisfaction survey results (depending upon how good or bad they are), user-generated product performance ratings for all similar products will be readily available to all potential buyers… and your competitors.
Customer relationships have always been important, but fostering authentic loyalty to your product will become absolutely crucial in the near term and beyond. "Brand" will be a much bigger factor in the industrial space, much like consumer goods. Innovation plus the Frictionless Customer Experience will need to be deliberately designed and deliberately executed if you want to create a competitive advantage that's hard to duplicate – and neither of those are core strengths for most manufacturers today. 
It may be even worse if your business relies on a network of distributors because today THEY actually own your customer relationships, not you. In future your distributors may become friend or foe, because there will be few barriers to entry for them to displace you not only in the marketing and sales components of the value chain, but as the localized additive manufacturer working from your designs… or someone else's.
Only customers create cash flow and that matters right now more than ever because…
Prediction #8: Massive change will consume massive cash.
Many of my Target articles focus on profitability tactics and strategies beyond lean. You're going to need every cent of profit to weather the storm and finance all the changes required across every area of the value chain and in fact you'll need to stockpile cash to cope with change like you never have before. 
But now is NOT the time for conventional profit-improvement methods such as slashing costs, downsizing, layoffs, and putting investments on hold. And, you can't count on continuing to chase manufacturing and supply efficiencies to drive profits. Eventually, if Wal-Mart is printing Barbies, who will get more of the margin in the world of Manufacturing 5.0? Not Mattel.
You're going to have to figure out how to earn profit with integrity in every other area of the value chain in the very narrow window of opportunity in 2018 while it's still relatively "business as usual." Your greatest opportunities lie in getting much more strategic in understanding which customers are more profitable, where there's waste caused by friction in the experience, and where you can innovate in value-add ways that will support more profitable pricing.
While many of the other predictions are not entirely within your control, uncovering profit in plain sight across the value chain while things are still well-understood and relatively business-as-usual IS actionable…and within your control. Will you do it?
Next steps:
None of this has to be bad news. Apple is a highly viable, successful profitable company fully focused on the future growth areas of the value chain: marketing, engineering, and customer service. Beyond structuring outsourced manufacturing agreements, they spend NO leadership or operational time on the about-to-be-hollowed-out inbound logistics and manufacturing areas of the value chain above. Their manufacturing arrangements are flexible, and will likely be amongst the first to fully pivot to LAMD in the next few years. By the way? Their Return on People is typically between $400-500K per person… while the average manufacturer achieves only $16K. 
Are you stuck in Industry 4.0 thinking or already devising strategies to pivot to the realities of Manufacturing 5.0? Do you have robust relationships with your people and your customers that will withstand the stress of seismic change? Do you have a plan for how you'll build a profit vault to ride out the storms and fund the massive shifts that will be necessary in the way you do business? If not, each of these areas needs your immediate attention in 2018, and I'll bet that none of them are on your current strategic plan. It's time to pivot your focus and prepare for the future. Because it's not just coming. It's here.