Newport News Shipbuilding (retired), AME Management Team, marsh8279@aol.com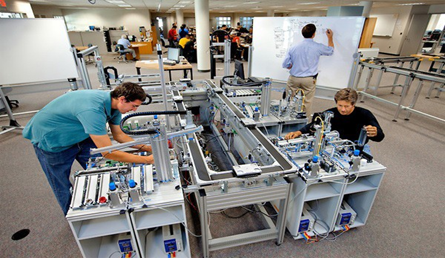 The demand for "middle skill" workers — those with associate degrees or training certificates — will continue to grow rapidly, especially in well-paying fields like health sciences, information technology, and advanced manufacturing.
Organizations are realizing a traditional college education is not the only way of nurturing young talent. IBM HR Vice President Sam Ladah says the focus should be on "new-collar jobs" – judging candidates on skills rather than educational background. He believes people who don't have four-year degrees can prove their technical knowledge through other certifications.
IBM also created a "new collar" initiative to attract students studying other fields who demonstrate analytical thinking skills. This program offers on-the-job training, shadowing, and mentorship from IBM employees.
Schools, businesses, and community colleges are now understanding that high-quality, hyper-relevant apprenticeships or certification programs are valuable and are starting to treat them equally, if not preferably, to generic degrees. These new-collar jobs are offering students affordable and rewarding career paths which may not require a college degree along with little or no debt.
Companies are looking for high school graduates who have gained skills in operating complex manufacturing systems that integrate electrical, mechanical, and computer engineering with responsibility for their efficient operation and preventative maintenance.
To address these challenges, in Virginia, businesses, educators, and community leaders have come together to launched the Advanced Technical Career (ATC) Academy program. This employer driven partnership is training high school juniors and seniors for careers in automotive, construction, and advanced manufacturing.
These career clusters were selected for the academy due to the skill transference between occupations within each career cluster such as: schematics, math/measurement, computer technology, technical writing, work ethic, safety, following instructions, problem solving, critical thinking, team work, mechanical aptitude, business concepts, and quality control.
For instance, advanced manufacturing candidates can take the Mechatronics program offered by Thomas Nelson Community College taught at New Horizons Regional Education Center (NHREC) part of their new ATC Academy program. This program is a special two-year pilot course limited to 16 students to address in demand needs of businesses.  Students earn 22 dual enrollment credits at no cost, and a Thomas Nelson Career Studies Certificate, all the while earning a high school diploma and the Siemen Certification, a nationally recognized industry credential.
The Mechatronics program prepares students for advanced mechanical/electrical industry technician  jobs that design, install, maintain, repair, or troubleshoot manufacturing systems. These Mechatronics graduates start out as technicians at $36,000 to $40,000 with pathways into engineering positions.
To learn more about the "Jobs of the Future" and "Smart Manufacturing", at the AME International Conference in Boston October 9-12th there are interactive discussion groups to share ideas and best practices on how to fill the talent pipeline with these "new collar job" candidates to provide the much-needed middle skills for a "Manufacturing Renaissance" for the 4th Industrial Revolution.