AME | October 11, 2016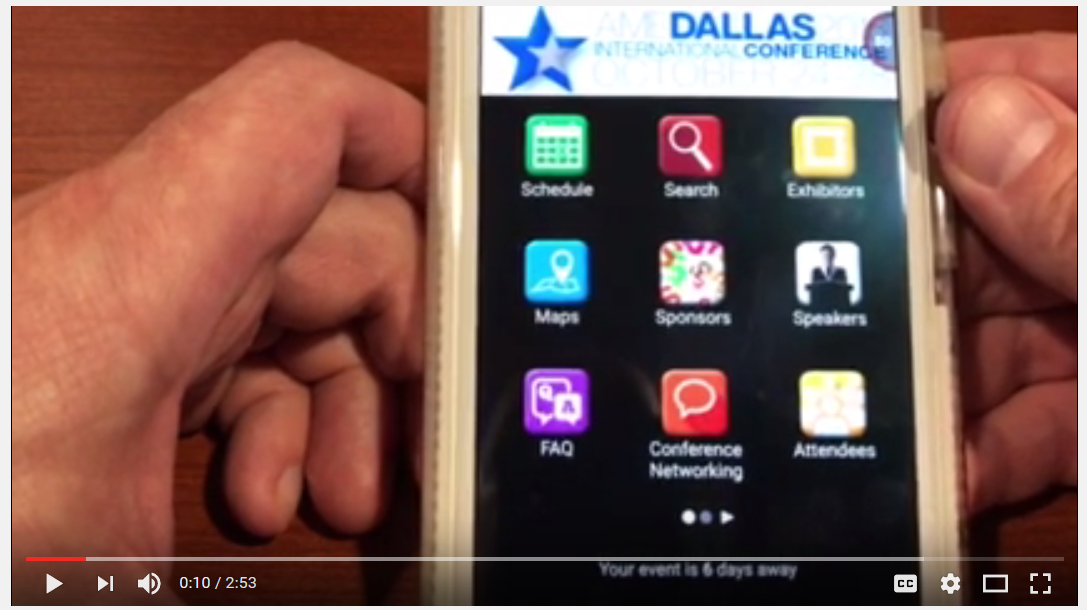 Looking to enhance your experience at our annual conference in Dallas? AME is proud to partner with CrowdCompass again this year to provide attendees with the tools to help you plan your conference experience in Dallas. 

To download the app, visit:

• For Apple devices: http://apple.co/2dfBdWq
• For Android devices: http://bit.ly/2dKFxx5

Log in to the Dallas Conference app by using the email address and confirmation number from your registration. 

After you've downloaded the app and logged in, you can:

• View the conference schedule by day and then add a session to your personalized schedule by selecting the plus sign to the right. It's important to note that adding a session (especially and workshop or tour) does not register you for the event.  You must visit the conference website, www.ame.org/dallas or visit the registration area during the conference in Dallas.  Also worth noting (and very important to us), is the opportunity to take a survey for each presentation, tour and workshop.  To do this, simply click on the appropriate session, scroll down and select survey. This survey helps us to plan future conferences and regional events. There's more information on our #AMEDallas app preview video.
• Search for speakers, topics and organizations that are of interest for you. For example, searching "5S" will allow you to see organizations that focus on 5S, presenters who are knowledgeable about 5S and sessions that feature 5S..such as a value stream presentation or tour. 
• View exhibitors by name or category. In addition, you can bookmark the exhibitors you're interested in visiting while at #AMEDallas.
• View both the Sheraton Hotel and Dallas city maps.
• Search for speakers of interest to you and bookmark the ones you're interested in.  Once you view a speaker bio, you can view the session(s) in which that speaker is presenting. 
• View a list of frequently asked questions (FAQ's) about the conference.
• View a list of networking opportunities at the conference.  This includes details about events such as the Dine-Around and Club NuBee and a guide to social media channels and hashtags for the conference.
• View a list of sponsors for the 2016 AME International Conference in Dallas. These are the sponsors that help make the conference possible. 
• View a list of #AMEDallas attendees. Note: in order to search the list, you must be logged in. If you're interested in contacting another attendee, click on "message" and then send a note to that person. 
• View a list of large groups attending #AMEDallas. In order to find out where the debrief room is located for each group, select the appropriate company.  
• View emergency contact information for Sheraton Hotel security, local first aid/medical and pharmacy.
• Request an Uber ride (note: the Uber app needs to be downloaded to your device). 

Stay organized, plan your #AMEDallas experience and provide AME with your feedback (via survey data) on how we can improve your conference experience -- download the conference app today!