AME | October 6, 2023
This week, I am thrilled to update our membership on a few exciting changes at AME. We have appointed three new members to our international board of directors. Ellis Jones, Marc Kuzik and Bob Miller will serve as directors-at-large for a two-year term that began October 1, 2023.
Jones is an independent director with Arconic and TimkenSteel. Kuzik is the continuous improvement manager for Argus Machine, and Miller is the vice president of Hi Rel at SMRC Corporation. They bring significant leadership, continuous improvement and nonprofit experience to the AME community.
They join Brian Fields, vice president of Manufacturing Newport News Shipbuilding; Michael (Mickey) McCallion, executive vice president of global operations at SMTC Corporation; and Ellen Sieminski, Gerber Collision & Glass director of continuous improvement as AME board directors at large.
The AME board comprises six directors-at-large, a five-person executive committee and four voting regional presidents. Presidents include Terry Spalding of Hansen Plastics Corporation and President's Council president, and Larry Aderson of ResourceSyncing.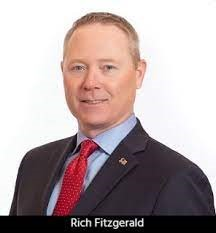 In corresponding moves on the executive committee, Rich Fitzgerald has been named 2023-2024 international board chair. Fitzgerald, senior vice president of global operations and supply chain at Victory Packaging, a division of Westrock, began this leadership role on October 1, 2023. Fitzgerald also serves as chairman of the Board of Zentech Manufacturing. His prior roles include  global executive consultant for PE and strategic firms – HIG, Courtsquare, TCW, Lincoln, BlackBern Partners, Honeywell, Zentech, Spartronics, Nautic, Oakley, Amazon, JP Morgan, Sigmatron, Westrock, Kore, Staple Street and Guggenheim. In addition, he served as the chief operations officer of SMTC Corp and the global VP of operations and supply chain at Avnet Inc. Rich holds a B.S. in business management and organizational development from the University of Maryland and served in the United States Marine Corps.
The AME executive committee working with Fitzgerald includes Billy Taylor, LinkedXL CEO, as AME chair-elect; Peggy Gulick, Kohler Co., VP advanced manufacturing and continuous improvement as treasurer; and Robert Martichenko, TrailPaths LLC, as board secretary. Jenny Snow-Boscolo served as the past chair.
I could not be more excited about this Board leadership team! I thank them all for their contributions to the AME community. Be sure to introduce yourself at the AME Cleveland 2023 international conference this month.
As always, please stay safe and keep looking out for one another.