AME | September 11, 2019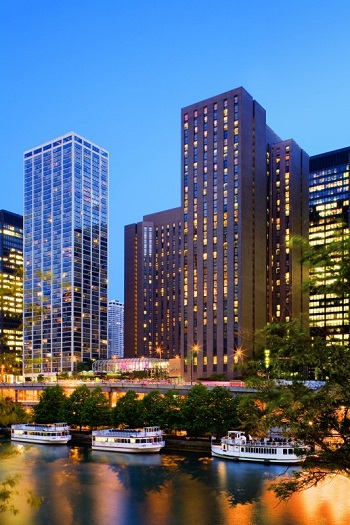 The world's largest lean conference, AME Chicago 2019, is just weeks away. Our passionate team of volunteers have put together an amazing schedule of learning activities: 9 keynotes, 25+ tours, 30+ deep-dive workshops, 50+ sessions and, of course, limitless networking with your peers and leaders in lean and continuous improvement. 
All AME Chicago 2019 sessions, workshops and keynotes take place at the Hyatt Regency Chicago, which is centrally-located in downtown Chicago just off the Chicago Riverwalk and minutes from numerous popular attractions. 
Note: The booking deadline has been extended - secure your room by October 23 to receive the conference rate! 
With this in mind, here are 10 reasons to stay at the Hyatt Regency Chicago for AME Chicago 2019:
1. CONVENIENCE
Take the elevator downstairs to your meetings - no Ubers or long walks needed! The Hyatt Regency Chicago has all the conveniences you desire in one place: Five restaurants, a fitness center, a business center, networking spaces and more.
2. COST
AME has secured discounted room rates at the Hyatt Regency Chicago. Save the extra money (or use it for a cocktail after the day is over)!
3. COMRADERY
Your colleagues are staying at the Hyatt Regency Chicago. Maximize your time and investment by squeezing in every available moment to network.
4. IMMERSION
With subject matter and industry experts within arm's reach, you'll be fully engrossed and able to learn at every moment.
5. PERKS
AME has secured additional concessions for guests at the Hyatt Regency Chicago, such as complimentary Wi-Fi and discounted parking. Only registered hotel guests can take advantage of these concessions.
6. ACTIVITIES
The Hyatt Regency Chicago is conveniently located near entertainment and culture. The hotel staff is equipped to make personalized recommendations to fit your needs so you can take advantage of all Chicago has to offer. Also, transportation for all AME Chicago 2019 tours leaves and returns to the Hyatt each day.
7. EASE OF PLANNING
Save time getting ready for the trip by booking the approved hotel - you won't have to search and assess a place to stay!
8. YOU GOT QUESTIONS? WE GOT ANSWERS.
AME has a direct line to the hotel and can help answer any questions you may have.
9. QUALITY
When you stay at the Hyatt Regency Chicago, you know you're going to be laying your head in a quality hotel that's been vetted and approved by professionals.
10. IT SUPPORTS AME
Attendees who stay at the host hotel help AME reinvest money into the conference experience year after year.
If you'd like more information about rates, parking and directions to the Hyatt Regency Chicago, visit our Hotel and Travel Information page. We look forward to sharing, learning and growing with you and your team in Chicago in November.