AME | July 31, 2020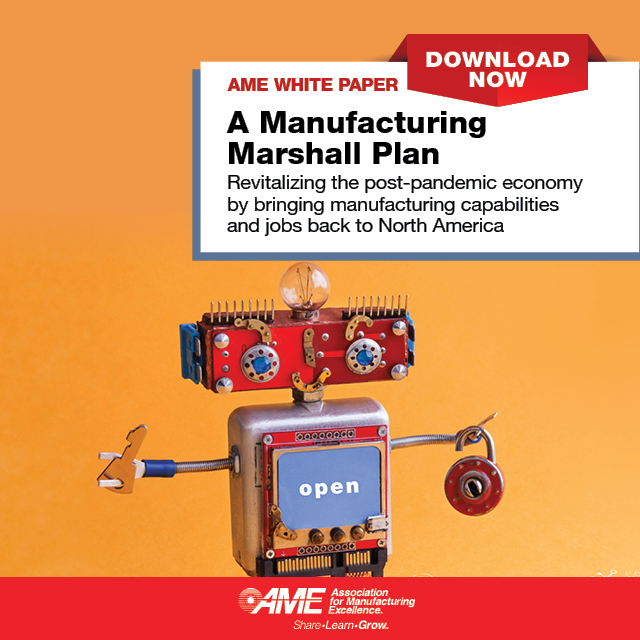 I know I'm preaching to the choir when I say that our industries and our vocations have been affected in dramatic ways by the pandemic. Whether you're in manufacturing, health care, finance, government, tech or the other sectors that AME serves and represents, your organization has undoubtably changed in 2020. While we continue to adapt, it's also important that we use this period of change to ensure that we avoid similar disruptions in the future.
And so, AME is taking a proactive approach to advocate for North American industry.
To create a more resilient North American economy, a multifaceted approach must be implemented that includes:
Reshoring, nearshoring and LeanShoring™
An increased focus on industry 4.0 innovations
Enhanced educational and training offerings
These three elements will provide companies and communities with a distinct competitive advantage while also boosting productivity and improving sustainability in a fast-changing competitive manufacturing world.
After World War II, the Marshall Plan helped Western Europe rebuild. In public-private partnerships, companies reinvested and rebuilt local supply chains, workforces and businesses. Along the way, these efforts fortified industry, the economy and local communities.
Today, AME released its plan for how North American industry can move forward in a similar fashion after the coronavirus pandemic. Our strategy, A Manufacturing Marshall Plan, is detailed in our new white paper, which is available for download from our website.
To quote the white paper, "this is not just a call-to-arms for policymakers. It is a rallying cry for North American manufacturers. It is the primary responsibility of industry to reinvent processes, supply chains and products to bring cost-competitive solutions to customers – to use lean methodology to more efficiently delivery on the promise of this new Manufacturing Marshall Plan."
The Manufacturing Marshall Plan aims to solidify the middle-class, advance manufacturing technology, create new-collar jobs and enhance education and skills training – all in the name of strengthening the North American economy.
While the focus of the plan is, of course, on manufacturing, there are significant implications for every industry AME serves. Manufacturing is a through-line for American life, and every sector has a stake in this work to rebuild. For example, the supply chain for pharmaceuticals, personal protective equipment and other medical devices are important to our health care members and the patients they serve.
Lean methodology is the common thread to make nearshoring, advanced manufacturing and enhanced education possible, and continuous improvement practitioners like you have a role to play in helping industry rebound.
I invite you to download A Manufacturing Marshall Plan, and I hope that you will join us in advocating for this path forward.
As always, please stay safe and keep looking out for one another.
P.S. The 2020 virtual AME International Conference early bird discount ends TODAY! Register now to receive $150 off the already deeply discounted price and get access to 40+ hours of best-practice content.