AME | June 20, 2019
by Tim Piotrowski
Chicago is the site of the 35th annual Association for Manufacturing Excellence International Conference from November 4 – 7, 2019. With the theme of Leading on the Edge, keynote speakers include Menlo Innovations CEO and chief storyteller (and author of "Joy, Inc.") Richard Sheridan, Akron Children's Hospital president and CEO Grace Wakulchik, Peter Sheahan (just added) and more. Attendees will also learn from more than 25 best practice tours, more than 80 practitioner and interactive sessions and countless opportunities for networking.
Chicago is also the place I've called home my entire life. I'm excited that this year's AME Conference is in my home town. With this in mind, I've compiled a comprehensive list of ten quintessential Chicago things to explore when you're in town for AME Chicago 2019: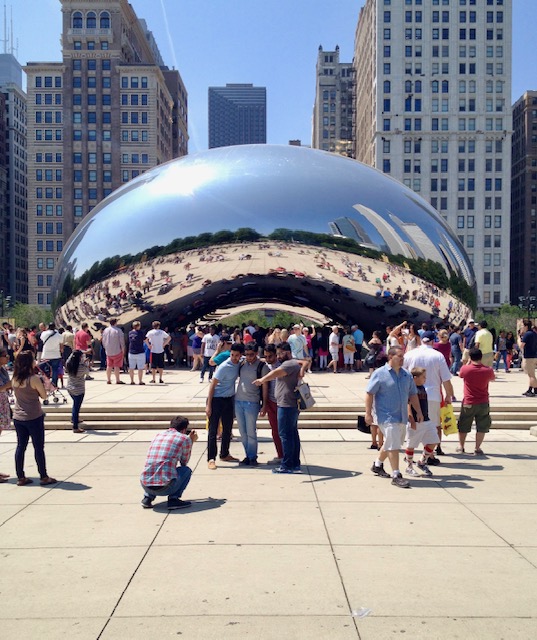 1) Millennium Park is one of Chicago's top tourist destinations with 25 million annual visitors. Located  within walking distance of the Hyatt Regency Chicago — AME's host hotel — it includes the Jay Pritzker Pavilion, Cloud Gate (also known as "The Bean"), the Crown Fountain and the Lurie Garden. Millennium Park is the perfect place to people watch, catch a concert and enjoy "The Bean," which is a public sculpture designed by Anish Kapoor (pictured at the left). It is one of my favorite places to relax and get away from the everyday hustle of the city and appreciate the surrounding Chicago skyline. 
2) Museums. Just south of Millennium Park is one of Chicago's most popular museums, the Art Institute of Chicago. With more than 1.5 million annual visitors, the museum is home to notable works of art including Grant Wood's American Gothic and Edward Hopper's Nighthawks. You'll also want to check out the museum's expansion, the Modern Wing, which was designed by Renzo Piano and opened in 2009. As a museum member, I have spent a good amount of time here admiring and appreciating amazing art and photography. Other nearby museums include the John G. Shedd Aquarium, the Field Museum and the Adler Planetarium. Still further south, on the site of Chicago's Columbian Exhibition, is the Museum of Science and Industry which houses a full-size replica coal mine, a German U-505 Submarine and a command module of the Apollo 8.
3) Restaurants. Chicago is a restaurant town and home to countless noteworthy restaurants and chefs. Rick Bayless's Frontera Grill, Grant Achatz's "Alinea, and Stephanie Izard's The Girl and the Goat are just a few. Chicago is also known for its deep-dish pizza, Italian beef sandwiches, Chicago-style hotdogs (hold the ketchup) and one of Oprah's favorite things, Garrett Popcorn.  You'll have a chance to sample some of these great restaurants on your own, but also as part of our AME Chicago Dine-Around on Sunday, November 3 and Monday, November 4. I'm also a big fan of the atmosphere at the original Billy Goat Tavern, located below Michigan Avenue near the Hyatt Regency Chicago. It was made famous from the John Belushi sketch on Saturday Night Live back in the late 1970's.
According to a recent Chicago Tribune article, Chicago is also home to more breweries, 167, than any city in the United States. Some favorite brewing companies include Half Acre, Revolution, Goose Island, Lagunitas, 5 Rabbit and Metropolitan. You can sample these brands and more at restaurants in and around the Chicago downtown area.
4) Chicago is home to one of the most vibrant improv and theater scenes in the country. For many, Chicago is the place to learn and perform improvisation…especially at The Second City. Since opening in 1959, The Second City has helped performers including Bill Murray, John Candy, Dan Akroyd, Mike Myers, Steve Carell, Tina Fey and Steven Colbert get their start. Other Chicago improv theaters include iO Theater and the Annoyance Theater.
For AME Chicago 2019, we are fortunate to have the dynamic, creative John Sweeney as one of our keynote speakers. As owner of Minneapolis' Brave New Workshop in Minneapolis – the country's oldest improv and sketch theater – Sweeney helps companies achieve greater innovation and improve their teamwork, productivity and employee engagement.
Other noteworthy theater companies in Chicago include The Goodman Theatre, Steppenwolf Theater, Victory Gardens Theater, Organic Theater Company and the Lookingglass Theater. If you're interested in seeing the hit, Hamilton, you can find it downtown at the CIBC Theater. But get your tickets fast before Hamilton ends its run in Chicago in early 2020.
5) The Picasso. Located in Daley Plaza is Pablo Picasso's sculpture, which was dedicated in 1967. Designed by William Hartmann from Skidmore, Owings & Merrill, the Picasso has been one of Chicago's most notable and identifiable pieces of public art.
6) Sports. Chicago is a sports town and includes the Chicago Cubs and Chicago White Sox baseball teams, the Chicago Bears football club, the Chicago Bulls basketball team and the Chicago Blackhawks hockey team. It is still too early to tell which teams will be playing and in town at the time of AME Chicago 2019, however nothing beats the atmosphere of experiencing a baseball, basketball, football or hockey game in Chicago.
7) Navy Pier. Chicago's number one tourist attraction, Navy Pier is home to parks, the Crystal Gardens, shops, restaurants, the Chicago Children's Museum and an IMAX theater. The Navy Pier Ferris wheel is open year-round. Featuring enclosed gondolas, it's a perfect place to grab a picture of Chicago's breathtaking skyline – even in November.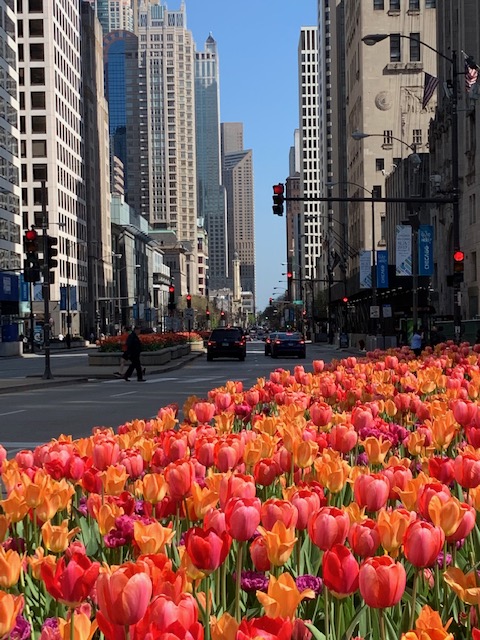 8) Shopping. AME Chicago 2019 will take place at the Hyatt Regency Chicago,  located just off Chicago's Magnificent Mile – one of Chicago's most upscale and interesting areas for shopping and dining. Across the river, you'll find the Apple Store and further down Michigan Avenue is Nordstrom (at The Shops of North Bridge), Saks Fifth Avenue, Neiman Marcus, Bloomingdale, the Water Tower Place mall and countless stores for fashion, jewelry, dining and specialty items. The Magnificent Mile was named in "The 10 Best of Everything: An Ultimate Guide for Travelers (a National Geographic Publication)," as one of the 10 best shopping avenues in the world.  
9) Music. Chicago is known for its blues music and has a rich history and vibrant music scene. If you're looking to experience Chicago-style blues, check out Buddy Guy's Legends in the south loop (a cab drive from the Hyatt Regency Hotel). It's one of my favorite blues clubs and owned by Chicago blues guitar player (and legend) Buddy Guy. You can also experience the blues at downtown clubs including Blue Chicago and the House of Blues.
Located near Buddy Guy's Legends is the Chess Recording Studio, where artists including the Rolling Stones, Muddy Waters, Chuck Berry and Bo Diddley recorded their music.
If you're into Jazz, check out Andy's, The Jazz Showcase or (a little further north) the Green Mill. Each has its own unique vibe and will allow you to experience some of Chicago's most noteworthy jazz musicians and venues.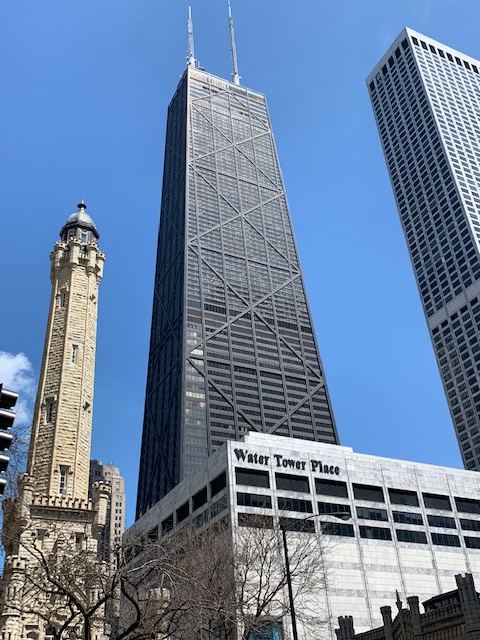 10) Architecture. Chicago is known for its architecture and large number of skyscrapers including The Willis Tower (formerly known as the Sears Tower) and my favorite, the John Hancock building (the middle building in the photo to the left). Each building is a long walk or short cab ride away. A great place to explore Chicago's architecture is located next door to the Hyatt Regency Chicago at the Chicago Architecture Center, where you can view a model of the Chicago skyline and learn about other noteworthy buildings in the area. One of my favorite "under the radar" gems for architecture is the Chicago Cultural Center, which was originally built to be Chicago's main library. The home to cultural programs, art and the largest Tiffany glass dome in the world, the Cultural Center is a short walk from the Hyatt Regency. 
There you have it, a comprehensive look at some of the sights and sounds in and around Chicago for you to enjoy during your time at AME Chicago 2019. The AME staff and AME volunteers can't wait to see you later this fall. Need some help deciding what to do? Stop by the AME booth during the conference or contact us in advance.
And don't forget to register now to take advantage of the last-chance discount to save on your registration by the end of June. Learn more about last-chance discount pricing at the AME Chicago website.
See you in Chicago!
Leare more and  Register