AME | March 22, 2016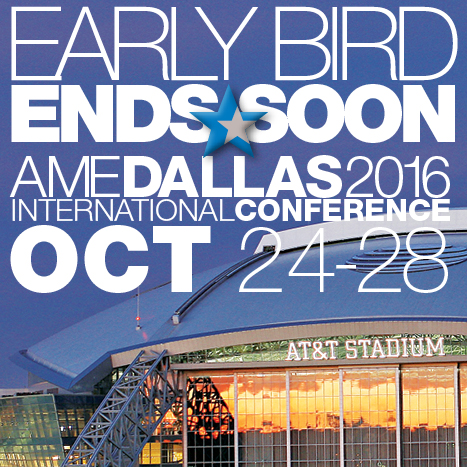 Early-bird discount pricing for the AME 2016 International Conference ends March 31st.  Scheduled for October 24 – 28, 2016 in Dallas, TX, the largest lean conference in the world promises to deliver insights on how to achieve excellence throughout your organization.
Again this year, our 2016 International Conference is highlighted by a group of diverse, insightful, inspiring speakers including NFL Hall-of-Famer Emmitt Smith, business leader and author Kaplan Mobray, lean expert Dr. Jeffrey Liker, former U.S. Marine Colonel Arthur Athens, business performance improvement leader Karen Martin, lean leader Mary Andringa and AME Hall-of-Fame Inductee Dale Crownover.  
In addition, the 2016 International Conference features 54 presentations, 12 special-interest sessions and 40 workshops designed to deliver strategies to help your organization accelerate growth and achieve enterprise excellence.
A key part of every AME conference experience is the opportunity to witness operational excellence firsthand through plant tours. Some of the scheduled tours this year include Dallas Cowboys' AT&T Stadium, Lockheed Martin Aeronautics, Orthofix International and Triumph Aerostructures. Be sure to check back soon for new tours that will be added. 
Whether your organization is beginning its lean journey or looking to build upon what it has already learned, the AME 2016 International Conference is sure to provide the knowledge to create lasting change. But hurry, time is running out to take advantage of early-bird pricing and a $200 savings off the full conference price.
Share, learn and grow with us in Dallas on October 24 -28, 2016 and take advantage of early-bird pricing - register today!