The AME International Conference returns in Atlanta in 2024!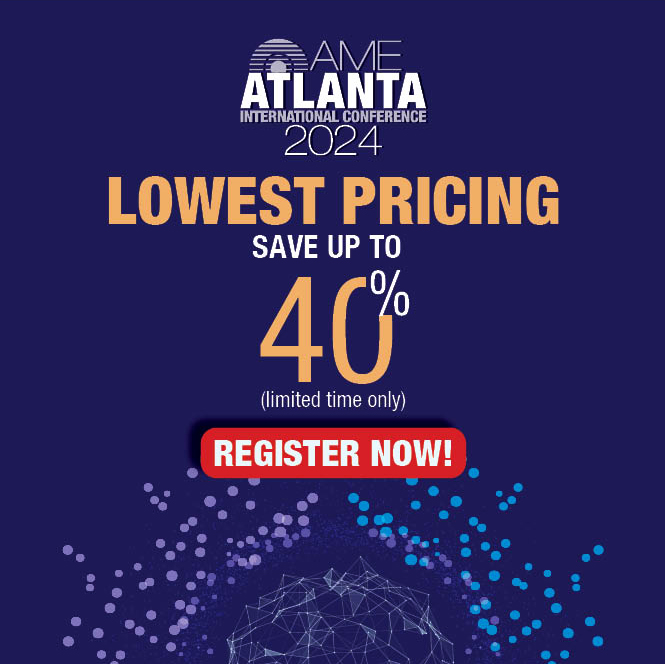 All it takes is a simple idea. A simple idea often connects with other elements, like tools, technology and the workforce, and grows into an initiative that makes great things happen.
Forty years ago, an idea to connect people through an annual gathering focused on learning, sharing and growing led to the first AME International Conference. Over the years, this event continued to evolve into a must-attend event for business professionals eager to advance their knowledge in lean, continuous improvement and operational excellence. Year after year, the results allow organizations and professionals to transform into wiser, more inclusive, connected, and successful versions of themselves.
We invite you to join us in Atlanta, Georgia, on October 28 - October 31, 2024, to celebrate the 40th anniversary of the AME International Conference. At AME Atlanta 2024, we will CONNECT. EVOLVE. TRANSFORM.
This unique annual event is a platform for learning and sharing, led by practitioners for practitioners, bringing together continuous improvement professionals from the front office to the front lines from every industry and corner of the earth.
Hosted at the Atlanta Marriott Marquis, AME Atlanta 2024 will include 40+ sessions focused on:
Developing an evolving workforce
CI tools and culture: connecting the dots
Nurturing thriving learning organizations
Coaching the practice of problem-solving together
Workforce development in the age of AI
See excellence in action on local tours and engage with fellow continuous improvement practitioners during presentations and interactive sessions. Hear from inspiring keynote speakers, grow your professional network and engage in educational workshops.
Learn best practices to make transformational changes in your organization. Build upon your experience from the 2023 AME International Conference, where we "ReImagined Excellence" as you "CONNECT. EVOLVE. TRANSFORM." at AME Atlanta 2024.

Amplify your impact. Become a sponsor.
Want to make a big splash in the continuous improvement community? AME offers a diverse and flexible selection of sponsorship options. As the world's largest continuous improvement conference, there is no better opportunity to reach your audience. Opportunities range from sponsoring the main stage keynote sessions, sponsor showcase presentations, networking and coffee breaks, and many more. No matter your budget or size, a partnership with AME is a can't-miss opportunity to get in front of key customers and influencers. To learn more, click here (link to Exhibitors and Sponsors page) or contact our team at sponsorship@ame.org.
SIGN UP TO RECEIVE NEWS AND UPDATES ABOUT AME ATLANTA 2024!
Let us know how to reach you by filling out the form below, and we'll provide you with updates on speakers, tours, workshops and more.