Topic(s)
People-centric leadership
Overview
Cirtronics' culture is built on teamwork, trust, courage, integrity and commitment. Employees are member-owners through the Employee Stock Ownership Program (ESOP), owning 40 percent of the company. Cirtronics' vision is that a corporation can extend beyond itself to truly serve its customers, suppliers, employees, corporation, environment and community. Learn how the company's business strategy focuses on entrepreneurial approaches to new and important strategic challenges, with a sustained emphasis on consistent growth. Hear how its customers leverage from its core competencies and competitive strengths to improve time to market, enhanced manufacturing flexibility, reduce inventory liability, and remove non-value added processes.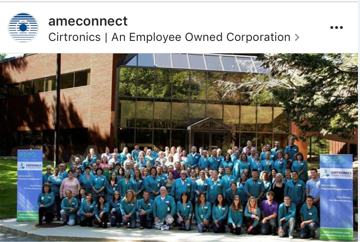 "We begin by making the commitment to be honest and authentic. Obviously, surprises do happen, but if you consistently communicate with a truthful intent and genuine interest of the employees and what's going on, people are open to being transparent, as well. And they're more excited because they realize there's no hidden agenda," said Cirtronics director of marketing Stephanie Gronvall.
To witness people-centric leadership and employee engagement in person, take the Cirtronics tour this fall at #AMEBoston.
For more on Cirtronics, check out our Cirtronics post on Instagram and read "Creating a culture of service and engagement at Cirtronics" from Target Online.
Company
Cirtronics is a product manufacturer invested in all stages of the product lifecycle including forward and reverse logistics offering NPI, material management, manufacturing, distribution, and after-market support. Its extensive engineering, production, program management, quality and supply chain teams' expertise allows the company to customize programs from the initial vision to full production life cycle and end of life. www.cirtronics.com