December 17, 2021 |

7:45 am

to

10:30 am
Central Time
Fees
AME Consortia Member: Complimentary
AME Member Fee: $99
Non-Member Fee: $149
DESCRIPTION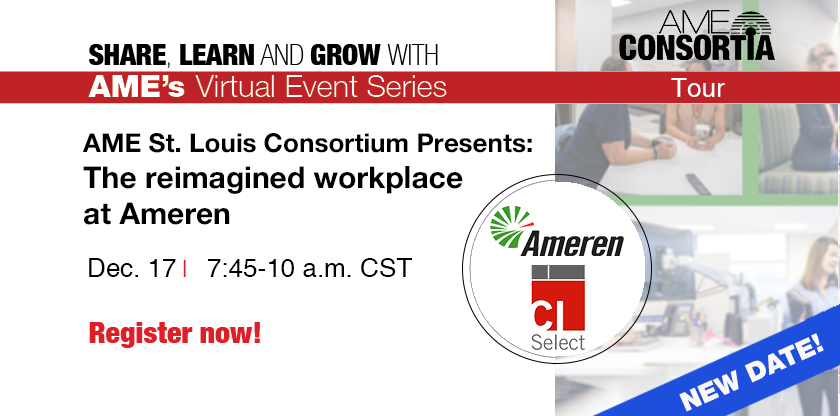 Join AME St. Louis Consortium member companies for a virtual tour of Ameren Corporation, a Midwest electric and gas utility. Ameren, and its primary office furniture supplier CI Select, will share their journey of the reimagined workplace which is taking the best of the past and present to enable new and innovative ways of working. Facilities are transforming to accommodate a new flexible workforce and a variety of workstyles by creating workspaces that give co-workers more choice.
Note: this is an AME St. Louis Consortium event that is open to non-Consortia members. The event is free for AME Consortia members from any of AME's consortia. Those without an AME Consortia membership may participate for a low registration fee. Learn more about AME Consortia and sign-up for a consortia membership now.
HOST COMPANY

St. Louis-based Ameren Corporation powers the quality of life for 2.4 million electric customers and more than 900,000 natural gas customers in a 64,000-square-mile area through its Ameren Missouri and Ameren Illinois rate-regulated utility subsidiaries. Ameren Illinois provides electric transmission and distribution service and natural gas distribution service. Ameren Missouri provides electric service generation, transmission and distribution services, as well as natural gas distribution service. Ameren Transmission Company of Illinois develops, owns and operates rate-regulated electric transmission projects. For more information, visit Ameren.com, or follow the company on Twitter at @AmerenCorp, Facebook.com/AmerenCorp, or LinkedIn.com/company/Ameren.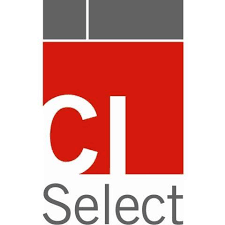 CI Select's mission is to create positive energy in the workplace. Its clients count on CI Select to help them foster their cultures and brands while enhancing employee productivity, collaboration, and pride in their workplace. Through furniture, flooring, workplace technology, architectural products, artwork, and signage, CI Select creates workplaces in harmony, delivered in sync. The company is proud to be a trusted partner of Ameren, helping Ameren achieve its reimagined workplace. CI Select is a certified Women-Owned Business. For more information, visit ciselect.com.
AGENDA
7:45 – 8 a.m.          Technical check-in and networking
8 – 8:15 a.m.          Introduction to Ameren and CI Select
8:15 – 9:30 a.m.     Virtual tours (3 rotations):
The reimagined workplace at Ameren
Bringing Ameren's reimagined workplace to life
Lean continuous improvement in the virtual workplace
9:30 – 10 a.m.        Debrief / Questions / Suggestions
PARTICIPANT BENEFITS
Accommodating a flexible workforce, workplace design, facility transformation, hybrid innovations.
WHO SHOULD ATTEND
CI managers and teams, HR managers and teams, operations managers and teams, architecture teams, design teams
VIRTUAL EVENT PARTICIPATION
To fully participate in this virtual event, a high-speed internet connection, speaker/headphones, microphone and webcam are needed. While not required, you will have a better online experience if you do not use wireless internet service. A wired/ethernet connection will have a stronger signal than wireless. Make sure you download the Zoom Client for Meetings desktop application for the best experience. Do not use the version available through your web browser as it has limited features. https://zoom.us/download
OTHER REGISTRATION INFORMATION
You can become an AME member during the registration process for $150 per year and obtain the discounted AME member rate for this event. Your membership will also entitle you to a registration discount for all future AME conferences, seminars, workshops and webinars for one year.
Payment or purchase order must be received by the AME office five days prior to the event start date. If no payment or PO number is received, you will be asked to pay with a credit card or check at the event before entry.
Cancellation Policy: For paid events, enrollment fee less a $100 non-refundable registration charge will be refunded up to one week before the event. Substitutions may be made up to three days prior to the start of the workshop.
Notes: This event may be canceled by AME for any reason. AME is not responsible for incidental costs incurred by registrants. By registering for this meeting, I hereby acknowledge and agree that AME or its agents may take photographs of me during events and may use those photographs for AME's purposes, including but not limited to news and promotional purposes, without further compensation to me.