December 7, 2021 |

4:00 pm

to

5:30 pm
Central Time
DESCRIPTION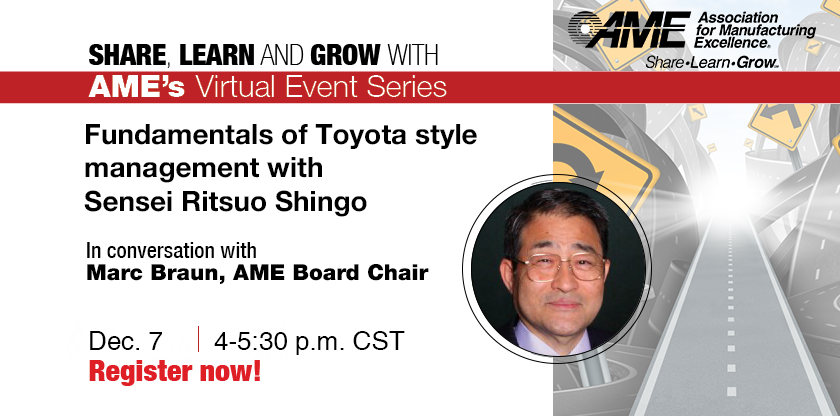 Pandemic, lockdown, chip shortage, supply chain troubles, labor shortage, rising material costs! These last two years haven't been easy for the manufacturing industry. But one company rode through these crises with increased profits and growth: Toyota! 
In 2020, Toyota increased its profits by 10% and became the world's most profitable automaker despite sluggish sales. What is the company's secret that makes it so resilient?
Toyota's success is built upon the concepts of the gemba walk, built-in quality, a symbiotic supplier relationship and a culture of continuous improvement.
In this talk Sensei Shingo will share his experience with AME chairman, Marc Braun, who has been a disciple of the sensei for years and applied these learnings successfully. This is a unique chance to learn how Toyota runs its business directly from the source.
PRESENTER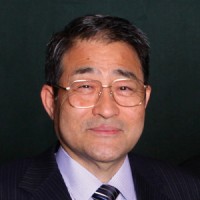 There is no one better than Ritsuo Shingo, former president of Sichuan Toyota and Hino Motors, to share these secrets. During his career, Sensei Shingo participated in establishing the first Toyota plants in the U.S. and U.K. (NUMMI and KY). He pioneered Toyota's expansion in China, which contributed to Toyota's great success in 2020. Coincidentally, he is the son of Shigeo Shingo and the first translator of the Green Book that facilitated the lean revolution.
AGENDA
Introduction
Gemba walk – Fact finding
Built in quality
Supplier relationship
Culture
Leadership - Leading by example
Discussions – Ikigai
Actions
VIRTUAL EVENT PARTICIPATION
To fully participate in this virtual event, a high-speed internet connection, speaker/headphones, microphone and webcam are needed. While not required, you will have a better online experience if you do not use wireless internet service. A wired/ethernet connection will have a stronger signal than wireless. Make sure you download the Zoom Client for Meetings desktop application for the best experience. Do not use the version available through your web browser as it has limited features. zoom.us/download
OTHER REGISTRATION INFORMATION
You can become an AME member during the registration process for $150 per year and obtain the discounted AME member rate for this event. Your membership will also entitle you to a registration discount for all future AME conferences, seminars, workshops and webinars for one year.
Payment or purchase order must be received by the AME office five days prior to the event start date. If no payment or PO number is received, you will be asked to pay with a credit card or check at the event before entry.
Cancellation Policy: For paid events, enrollment fee less a $100 non-refundable registration charge will be refunded up to one week before the event. Substitutions may be made up to three days prior to the start of the workshop.
Notes: This event may be canceled by AME for any reason. AME is not responsible for incidental costs incurred by registrants. By registering for this meeting, I hereby acknowledge and agree that AME or its agents may take photographs of me during events and may use those photographs for AME's purposes, including but not limited to news and promotional purposes, without further compensation to me.