January 26, 2022 |

9:00 am

to

10:00 am
Central Time
Fees
Non-Member Fee: $149
Member Fee: $99
DESCRIPTION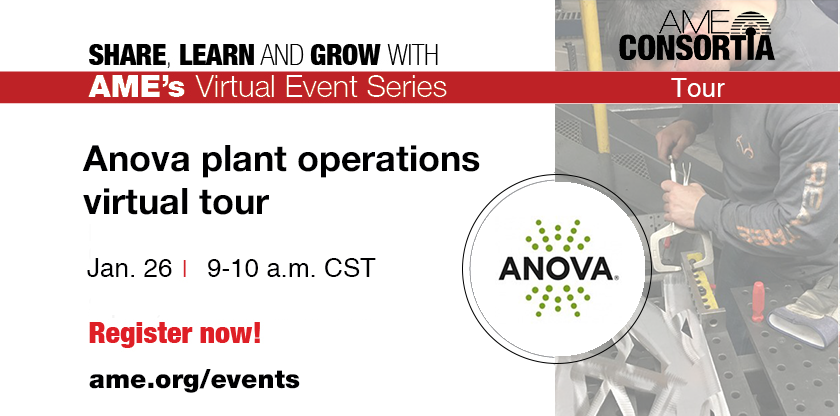 Anova welcomes you for a live, virtual tour of its Minnesota production facility. This tour will focus on Anova's product flow through the Minnesota production facility. Anova will cover production flow from raw materials, the fabrication and welding process, powder coatings and final assembly of products ready to be shipped.
Please note: This is an AME St. Louis Consortium event that is open to non-members. Participation is free for all members of AME's St. Louis Consortium. Those who are not members of that consortium are invited to participate for a low registration fee. Learn more about AME Consortia and sign-up for a consortia membership now.
HOST COMPANY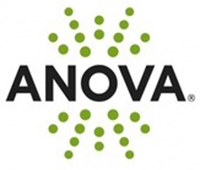 The mission of Anova Furnishings is to design and manufacture beautiful, comfortable outdoor furniture that helps communities come together. For more than 40 years, Anova has been an innovator in site furnishings. The company introduced aggregate panels in the 1970s and patented coating technologies in the 1990s. Anova Furnishings products include benches, bike racks, tables, chairs, recepticles and planters. Anova continues to push the envelope on total value, from design to manufacturing. Learn more about Anova Furnishings at https://vimeo.com/133186849.
AGENDA
9 a.m.      Introduction of tour guides & Anova overview
9:05 a.m. Virtual Tour
9:45 a.m. Q&A / Wrap Up
PARTICIPANT BENEFITS
See how Anova handles product flow from raw material to goods shipped.
WHO SHOULD ATTEND
Continuous improvement team members and managers, operations team members and managers, production team members and managers, plant managers, engineers
VIRTUAL EVENT PARTICIPATION
To fully participate in this virtual event, a high-speed internet connection, speaker/headphones, microphone and webcam are needed. While not required, you will have a better online experience if you do not use wireless internet service. A wired/ethernet connection will have a stronger signal than wireless. Make sure you download the Zoom client for meetings desktop application for the best experience. Do not use the version available through your web browser as it has limited features. https://zoom.us/download
OTHER REGISTRATION INFORMATION
You can become an AME member during the registration process for $150 per year and obtain the discounted AME member rate for this event. Your membership will also entitle you to a registration discount for all future AME conferences, seminars, workshops and webinars for one year.
Payment or purchase order must be received by the AME office five days prior to the event start date. If no payment or PO number is received, you will be asked to pay with a credit card or check at the event before entry.
Cancellation Policy: Enrollment fee less a $100 non-refundable registration charge will be refunded up to one week before the event. Substitutions may be made up to three days prior to the start of the workshop.
Notes: This event may be canceled by AME for any reason. AME is not responsible for incidental costs incurred by registrants. By registering for this meeting, I hereby acknowledge and agree that AME or its agents may take photographs of me during events and may use those photographs for AME's purposes, including but not limited to news and promotional purposes, without further compensation to me.